Case Study – Renaissance on Peachtree
Challenge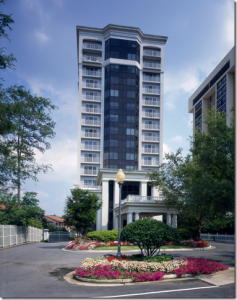 Renaissance on Peachtree, a 228-unit luxury Independent and Assisted Living facility is located in the heart of the affluent Buckhead section of Atlanta. It was owned by a private individual with more than 20 years of owner/operator experience. The property had historically enjoyed occupancy in the mid 90's, solid operating margins and strong rental rate increases. The events surrounding the recent recession, however, took its toll on the property which ended up falling behind on its tax-exempt bond payments. However, the property value still far exceeded the bonds outstanding. With the bonds in default, the bondholder entered into an agreement with the owner allowing a brief window of time during which the owner could sell the property before foreclosure.
---
Process
The property was marketed only to a very select group of potential purchasers that were capable of closing in a short timeframe. Groups were advised of the targeted price and given a specific timeline for bidding and tours. Due to the potential foreclosure, the transaction had to be completed by a certain date. This meant compacted periods for negotiation, due diligence and closing. Participants were also advised that if a viable offer was presented prior to the bid deadline that the marketing campaign would be halted. Due to the extremely short window available for the sale process and the possibility of losing the property to foreclosure, it was critical that the marketing be commenced as quickly as possible. Unfortunately, that meant starting the last Thursday in December, which is typically the worst time to start such a campaign.
---
Result
Several of the groups responded to the opportunity immediately and four groups toured the property about a week later. By the end of the second week, The Carlyle Group, in a joint venture with Formation Capital, had agreed to the requested pricing and timing. Due diligence commenced immediately and closing occurred 90 days from the start of marketing.
---
OTHER CASE STUDIES